Francesco Scattolin
Leader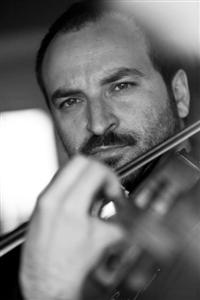 Francesco earned his degree in 1995 from the state conservatory of music "Agostino Steffani" in Castelfranco, Veneto, Italy, under the direction of maestro Giuseppe Volpato. He primarily performed with quartets until 1997, and also took courses at the Fiesole School of Music (1995 - 1996, 1996 - 1997), the Accademia Chigiana di Siena (1996, with scholarship and with honors), the summer of music festival in Portogruaro (1995 - 1996, 1996 - 1997 with scholarship) given by Piero Farulli, Bruno Giuranna, Milan Skampa, Alain Meunier, Mark Drobinsky and Valentin Berlinski. While performing in the quartet he was involved in numerous concerts and other events (the summer music festival in Portogruaro, Rovereto Estate, Associazione Veneta Amici della Musica, Amici della Musica di Padova, Teatro La Fenice di Venezi, etc).
In 1996 he recorded a CD with contemporary artists for the record label Velut Luna di Padova. He has since collaborated with the Orchestra Sinfonica di Udine (now the Orchestra Sinfonica del Friuli Venezia Giulia), and the Orchestra del Teatro Olimpico di Vicenza e I Solisti di Aquileia.
Since 1998 he has been a member of the Orchestra di Filarmonia Veneta "Gian Francesco Malipiero" and the Orchestra d'Archi Italiana under the direction of Mario Brunello where he has performed in some of the most important theatres in Italy collaborating with musicians and composers such as Günter Pichler, Natalia Gutman, Victoria Mullova, Franco Rossi, Giuliano Carmignola, Enrico Dindo, Giovanni Sollima, Evgeni Kiriliov, François-Joel Thiollier, Alexander Lonquich and Andrea Lucchesini. With this group he has also competed in many competitions in Italy and internationally, and recorded various CDs.