Christina Lawrie
piano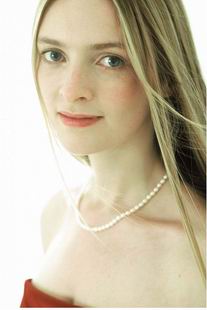 Scottish pianist Christina Lawrie studied at Chetham's School of Music with the Polish pianist and teacher Ryszard Bakst. She went on to read Music at Trinity College, Cambridge. After graduation, the Royal College of Music awarded her a Leverhulme Postgraduate Studentship, enabling her to study with Yonty Solomon. She also worked with Vanessa Latarche at the Royal Academy of Music.
Hailed as a Rising Star by the magazine International Piano, Christina performs regularly as soloist and chamber musician. She also works extensively with young singers. Her solo engagements in 2005 included two live BBC Radio 3 broadcasts, a Wigmore Hall debut, and two Purcell Room recitals, for the PLG New Year series and Fresh Young Musicians' Platform as well as numerous performances for music societies. Her performance at the Bellapais International Festival in Cyprus in May 05 was broadcast on television. Closer to home, Christina recently gave a recital in the inaugural season of the new Perth Concert Hall. Other recent engagements include her debut at St. George's, Bristol, on the recommendation of John Lill.
In 2004 she was invited to give her debut recital at London's South Bank Centre, in the Park Lane Group Young Artists Series. The Observer praised her "formidable intellect and boundless technique…Fantastic playing", and Musical Opinion described her as "a very gifted young player...". As a result of this recital, when one of the 2005 PLG Young Artists dropped out, six weeks before the concert, Christina was asked to step in for the 2005 series. Musical Pointers remarked of her performance "In a few weeks and by special request she had learnt the complete programme already scheduled for an indisposed PLG Young Artist. That included Tippett's rhapsodic and elusive 4th sonata, played from memory with complete assurance and remarkable aplomb; an astonishing feat of professionalism."
Christina has won a host of accolades on a national and international level. She was a finalist in the Piano Section of the Royal Overseas League Music Competition in London, and a winner of the Blackheath Hall Young Artists auditions, as well as being a prizewinner at the Marsala International Piano Competition. A former Caird Scholar, Christina has also won an English-Speaking Union/Vlado Perlemuter scholarship, and awards from the Cross Trust, Hope Scott Trust, Leverhulme Foundation, Musicians Benevolent Fund and the Tay Charitable Trust. She won numerous prizes at the RCM and the RAM, including the Academy's Postgraduate Piano Recital Prize, and Friends of the Royal Academy of Music/Mortimer Career Development Award. She has received generous support from the Scottish Arts Council, and recently won a Dewar Award, Scotland's highest accolade for emerging artists. Christina has worked with renowned pianists such as Nelly Akopian-Tamarina, Sergie Babayan, Andrew Ball, John O'Conor, Paul Crossley, Joan Havill, Vanessa Latarche, John Lill, Alexander Satz and Yonty Solomon.
Other engagements have included solo recitals and lieder performances, and in a unique collaboration, Christina joined the author Conrad Williams in a performance of readings and music from his new novel "The Concert Pianist".
Christina performed with the Dundee Symphony Orchestra in 2003, playing Mozart's A major Piano Concerto K.488, and also in 2006 playing his Piano Concerto No. 21 in C – K.467.